King Harald Bluetooth united hostile regions of Norway and Denmark and that is why the wireless data transmission that connects devices is named after him. Connect to communicate – that could serve as the slogan of our presence at the
aquanale
exhibition. Because under the "grando digital" title we have included in the pack a remote control unit operated by Bluetooth that tells the grando cover what to do. This is how it works: download the app, connect a smartphone with an additional control and that's already enough for you to command your cover to go "forward", "back" and to "stop" via your smartphone while you sit relaxing on the terrace enjoying your view of the pool. For anyone who wants to go further from the pool there is the grando app with which they can also view the pool and control the cover at any time, even away from home.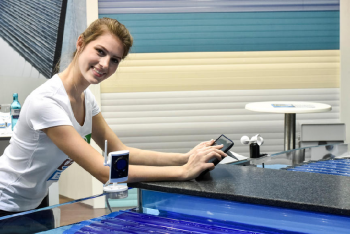 A small camera installed above the pool transmits the status of the roller shutter directly to a smartphone. Stop or open the cover? One click and it's done. So neither falling branches nor hailstones can threaten the sections. Just smart gadgets? You could also call it damage prevention. So it's worthwhile connecting with grando. Just how worthwhile it is is made clear by a big touchscreen on the exhibition stand that brings grando's products to life with images, sound, a configurator and an energy calculator. Other innovations such as an electronic control switch are already almost secondary. The main thing is that you visit us at the aquanale! You will find us in Hall 6.1, Stand D30/E31 and there are free admission tickets
here
with the voucher code
Pro-aquanale
. If we can already look to the future in text, we can in fact look back in images: the cover photo shows the grando exhibition stand ten years ago.