What does the
grando
solar cover have in common with CDs, optical lenses and the roof of Cologne main railway station? They are all produced from a high-quality synthetic material – polycarbonate. This material developed by
Dr Hermann Schnell at Bayer AG
was introduced under the brand name Makrolon in 1955. This was the year in which Marilyn Monroe made a name for herself with the film 'The Seven Year Itch'. Polycarbonate has not just survived the seven year itch, it has been a successful part of the market for more than sixty years, and its significance has earned it a place in the
German Plastic's Museum
. Not only is polycarbonate durable, but there is also long-term research into this weatherproof synthetic material. Dr Hermann Schnell established a foundation in his name with the
German Chemical Society
to encourage young scientists in the field of macromolecular chemistry. That was twenty years ago – another anniversary.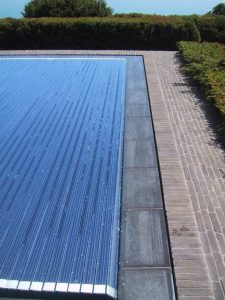 And while we are on the subject of anniversaries, PVC, a material from which grando profiles are also made, is celebrating its birthday – 180 years to be precise. In 1835 the chemist
Henri Victor Regnault
was the first to produce vinyl chloride and noticed how polyvinyl chloride (PVC) was created by the effect of sunlight. Even if he was not aware of the implications of his work, and others ended up taking the credit, he was there at the birth of PVC. But that is enough of dwelling on the past. Now let us look to the future – with grando roller covers made from materials that have had their ups and downs making them resilient.