When two come together, the third one has the last laugh… goes the old saying in slightly modified form. But this way it fits better for us and this
year's World Science Day
. It is a good occasion to present the grando cooperation with the research sector and highlight the consumer benefit.
Zero Pool
is the name of the project that unites business and science – and which has the aim of making swimming pools more energy efficient and environmentally friendly. Meanwhile, comfort and aesthetics should not be missed by any means. Can this be done? Sure, if everyone contributes their competencies.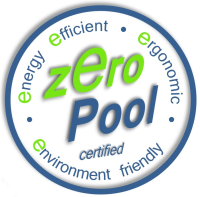 grando, with its solar roller cover covers, is in the process of not only preserving heat but also generating it. And, the blinds have been put on the
top products list for pool energy savings
by the
Institut für innovatives Design
[Institute of Innovative Design] of Professor Dr Ulrich Beerschwinger. We are very proud of this. This is already the second time that our energy savings promise was confirmed scientifically – after Fraunhofer Institute for Building Physics previously calculated that a grando cover can
reduce the energy requirement of a swimming pool by up to 80 percent
. Now, no one can say that science is abstract.