If your name is Grossman, does it oblige you to high earnings from sales? This might be so. After all, I had the privilege of awarding
Grossmann GmbH
of the Austrian town of Möllersdorf the prize as the best-selling swimming pool construction partner of the
sopra
Group. Congratulations! And thank you for your loyalty to grando. Since, however, there are four winners, my thanks and congratulations also go to the three additional "sales winners",
Arosa
,
Boiger-Sekoplast
and
Henne
. The absolute values are important but the relative ones are, too.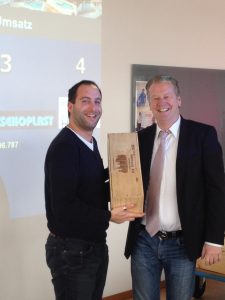 Therefore, I used the occasion of the sopra Spring Conference also to honour four swimming pool construction partners, who have achieved the highest increase in sales with grando. Besides Grossmann and Arosa, the winners were
Herzog
and
Wendel
. To all of them, thank you very much and we are looking forward to a continued good cooperation! grando not only presented certificates but also received one itself. Our swimming pool partners picked us for 3rd place in the supplier evaluation. Thank you for that – this is an honour as well as an encouragement at the same time, as there still is a little room left to the top.