Every man should not only build a house, father a child, but also plant a tree. This can be done, right? Whoever has a pool without cover and consequently emits CO2 unnecessarily however, does not get by with planting a tree in compensation. He would then
have to plant trees to forest an area of 1,200 square metres
– and that is a little bit more difficult.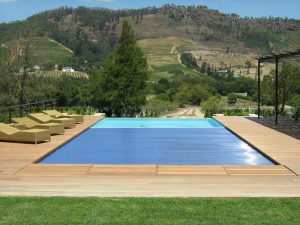 To say the least, doing so is complicated and entails high costs and a lot of work. A swimming pool cover in contrast, especially when it folds and unfolds by the press of a button, can be operated as easily as 1-2-3 and saves costs at the same time. Rounded
80 percent or 2,300 Euro
. And this money can be used for quite a few other things. Whoever cannot see the forest for all the trees anymore, given the broad range of offered swimming pool covers, can obtain the right advice from their
swimming pool specialist
. Have a nice
day of forests
!