Work and fun are often next neighbours. This became clear again at the
bsw Supplier Conference
, where I am a guest together Frederik Granderath today and also yesterday. The event of our industry association serves the purpose of meeting colleagues, discuss current topics and learn new things. Besides communicating genuine expert topics – which included the European standardisation this year – it is also about looking beyond the horizon and broadening one's mind. Accordingly, this time there were important issues relating to marketing, the challenges of mid-sized businesses in the globalised world, and trade fair appearances.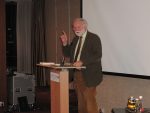 The best thing was: the performance of
Dr Manfred Lütz
, who had "the whole house" laughing. With a lot of wit, he poked fun at the health craze and made a case for more joy of living. This was why all of us enjoyed the beer in the evening and the delicious buffet particularly much.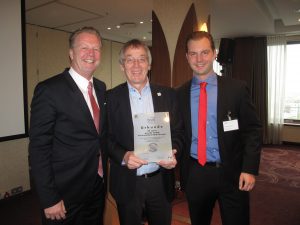 And this morning, there was a surprise that moved Frederik and myself a lot. The bsw Director, Dieter C. Rangol, and bsw President, Dietmar Rogg, presented a certificate to us for the
90-year company anniversary
. Thank you!